Those familiar with filing and responding to arbitration in TRS will see added fields for Property filings. Listed below is a summary of the changes.
1.
Loss Type
and
Cause of Loss
added to the Incident Details and My Party Information section. After selecting the Right of Recovery (Negligence or Concurrent Coverage), the Recovering Party will select the Loss Type and Cause of Loss. These fields will ensure the filing is matched to an arbitrator with the necessary experience and knowledge. See options below.
2.
Feature Name
and
Feature Description
added to the Feature Information section.
Collision/OTC filings require entries for vehicle make and model; PIP and Med Pay filings require entries for the injured party's name. Due to the variety of feature types in Property Arbitration, (i.e., residence, commercial property, cargo, cables, watercraft), filings require a Feature Name (i.e., address, watercraft name, etc.). There is an optional Feature Description field, if needed.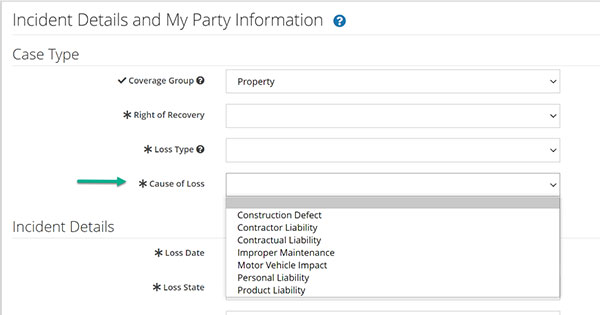 3.
Company-Paid Damages
include multiple options similar to OLF. An "Other" option has been excluded.