TRS is designed to streamline the filing and responding process, reduce cycle time and errors, and improve Decision Quality. To support you as you hear cases in TRS, we are sharing the following tips:
1) Add a
specific
comment about the embedded evidence item(s). Explain what the item contained and/or what it proved (or did not prove) concerning the associated argument. For example, if the Adverse Party argues the Recovering Party parked illegally, and embeds a copy of the police report as support, an example of a specific comment could be:
"The officer's narrative stated Alpha was parked illegally in a no parking zone."
2) While filers and responders are strongly encouraged to attach evidence where applicable within the workflow, evidence must be considered regardless of where it is attached. To review all attached evidence, follow the Workflow steps shown in the images below: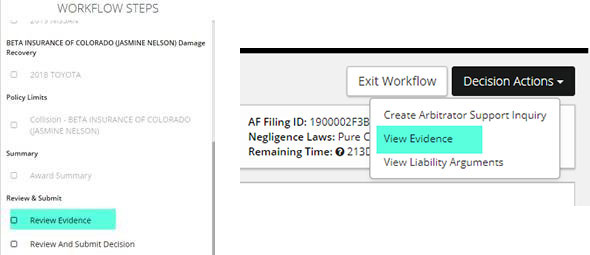 3) Review and consider the pre-rebuttal damage arguments when considering the Adverse Party's damage dispute.
4) Use your discretion to decide if the Recovering Party has proven its damages when it has not properly itemized them. For example, if the towing charges are lumped into the vehicle valuation field instead of where they belong in the towing field.
5) Consider only policy limits raised in the proper area. The Adverse Party must assert Policy Limits in the
Coverage Response - Collision
Workflow Step (Illustration A). In the arbitrator view, asserted limits should appear in the
Liability Policy Limits
Workflow Step (Illustration B).