AF is excited to announce that the Property Forum cases will move to TRS in 2023. The Property Coverage Group in TRS will feature the user-friendly navigation, while supporting improved decision quality and reducing cycle times and decision errors.
As we work toward this deliverable, we will keep you informed of training dates and resources—stay tuned!
Changes to Personal Property and Valuation Damage Types in TRS
On January 22, 2023, AF introduced changes to the Personal Property and Valuation damage types in all coverage groups where these fields are available. The Valuation damage type is displayed when the user selects "Total Loss" on the Feature page.
The Personal Property fields in both General Damages and Total Loss Damages will display ACV/RCV/Mixed options when damages are entered in the field. The Mixed option can be used when the damages claimed in Personal Property are a combination of ACV and RCV types. The Valuation field will display the ACV/RCV options to the right of the field when a user enters Valuation damages. The ACV/RCV options were originally displayed below the Valuation field.
The ACV/RCV and the ACV/RCV/Mixed options are a required field when displayed on the Feature page.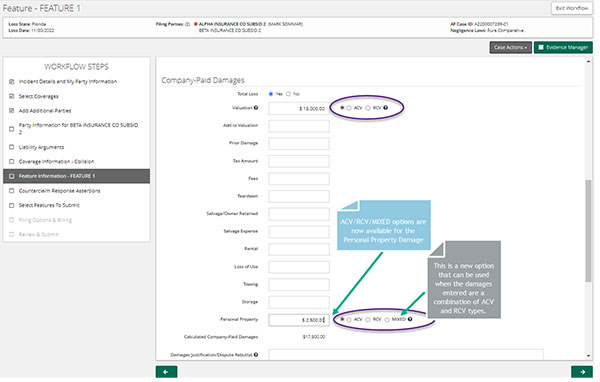 New Evidence Types Added to TRS
Stipulations and DMV Expansion evidence types have been added to TRS. These evidence types allow New York PIP users to accurately classify qualifier evidence.