For recovery purposes, it's important to know how to file supplement damages once a TRS case is submitted. It is equally important to know the steps in disputing damages relating to those supplements as an adverse party.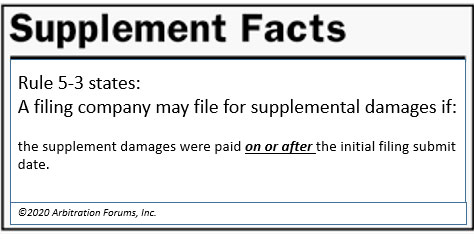 Two new videos have been added to the
TRS Resources
page that provide a complete walk-through of the process from both a recovering party and adverse party perspective:
Filing a Supplement Case (2:32) (Published June 25, 2020)
Responding to a Supplement Filings (4:21) (Published June 25, 2020)
In less than 5 minutes, we'll walk you through each workflow step and provide key information relating to supplement cases. Key information includes:
Liability is not in dispute.
The only dispute is damages.
Evidence attached to the initial filing's Liability Arguments is automatically migrated to the supplemental filing.
New evidence can be attached.
Prior payments can be added as they relate to the supplemental damages.