Responses are entered differently depending on if the policy cannot be identified or if coverage was denied.
For responding parties that cannot identify a claim/policy number or insured and feel the wrong party was named, they should request to be removed from the case by following the instructions below.
Go to the Case Overview and click the vertical ellipsis to the left of your company. Select Request to Remove Party and enter the justification on why this company should be removed from the case, then click Submit Request (evidence can be added, if needed).
Alternatively, the responding company may submit a response asserting "no liability policy is in effect."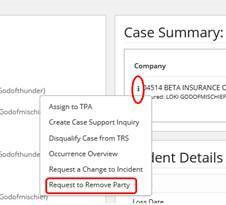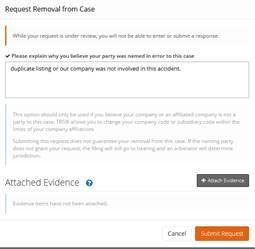 If the responding party can identify the claim/policy number or insured, but will not afford coverage under the liability coverage, they need to submit a response asserting denial of coverage and attach the denial of coverage letter to the insured/party seeking liability coverage.

If "no liability policy in effect" is selected, you will also get a warning.