As previously communicated, the ability to submit an auto damage arbitration directly in TRS begins on April 29. The requirement to have issued a prior E-Subro Hub demand will be removed.
Direct filing offers three paths to submit a TRS filing:
1. Continue to push an E-Subro Hub demand to TRS.
2. Select "File New Damages" within the TRS application.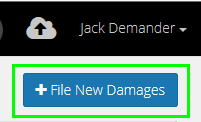 3. Select "TRS" when submitting an Online Filing (OLF) case that qualifies for TRS.

When TRS is selected, you will need to review and complete the TRS workflow steps. This includes uploading and attaching evidence and ensuring all entries have migrated correctly. For example, OLF includes the combined damage type of "Towing & Storage," while TRS separates them. The "Towing & Storage" OLF entry will migrate to "Towing" in TRS. You will need to add "Storage" and adjust the amounts for each.
We believe we've made filing in TRS as easy as possible for our participating members!