An E-Subro Hub question that AF occasionally gets asked is: "Is there a way to create a list of my current pending inventory, so that I can view more than just my Work List items where actions are required?"
A user has the ability to create many demand lists with the custom search feature of E-Subro Hub. When you get to the Work List by clicking the E-Subro menu > My Demands > My Work List, you are on a specific Demand Listing page: My Work List.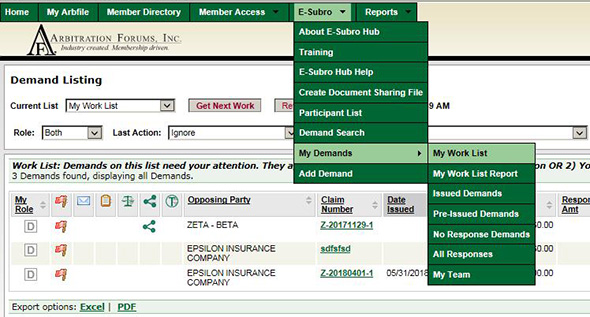 In the upper left of the page, you will see the Current List menu options. Clicking the drop-down arrow will show your current list is My Work List. At the bottom of the menu is the Custom search option.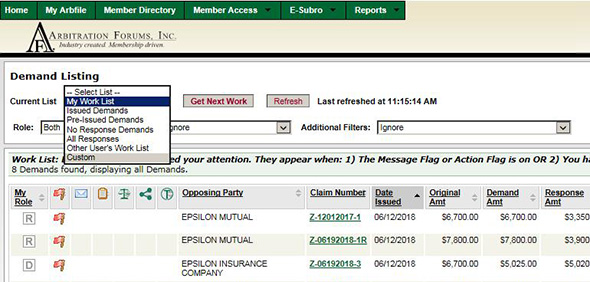 The custom search page gives you the option to create many lists by activating or ignoring filter options. For example, to create a list of outstanding demands owned by the user, set the following filter options:
Role = Both
Owner = Me
Company = None
Last Action By = Ignore
Action Flag = Ignore
Message Flag = Ignore
Last Action = Ignore
Demand Amount = Ignore
Demand Status = Outstanding
Issue Date = Specify Date Range
Date Range = 3-month max. date range
No Response In = Ignore
Inactive For = Ignore
Demand Type = Ignore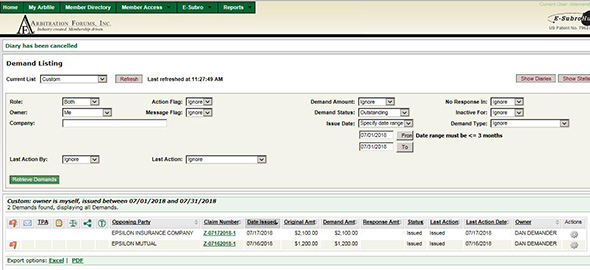 Once the filter options are set, then click "Retrieve Demands." The result can be exported to an Excel document by clicking the command in the bottom left corner. If you wish to see more than three months of data, set a new three month date range and save the information to the same Excel document. This can be done as many times as needed to capture an entire inventory.
If you have any questions regarding these enhancements, please contact AF at 888-371-2761 or send an email to
esubrohub@arbfile.org
.